MALLIKA MALLIKA LYRICS – Shaakuntalam (Hindi)
2 min read
Mallika Mallika Lyrics from Shaakuntalam is brand new Hindi song sung by Ramya Behara while this latest song is featuring Samantha. Mallika Mallika song lyrics are penned down by Prashant Ingole while music is given by Mani Sharma and video has been directed by Gunasekhar.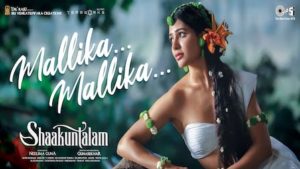 Mallika Mallika Song Details:
| | |
| --- | --- |
| Song: | Mallika Mallika |
| Movie: | Shaakuntalam |
| Singer: | Ramya Behara |
| Lyrics: | Prashant Ingole |
| Music: | Mani Sharma |
| Starring: | Samantha |
| Label: | Tips Music |
Mallika Mallika Lyrics
Mallika Mallika Maalti Maalika
Hai Kahan Hai Kahan Raja Iss Dil Ka
Mallika Mallika Maalti Maalika
Hai Kahan Hai Kahan Raja Iss Dil Ka
Hamsika Hamsika Jaao Na Hamsika
Apne Sang Lao Na Raja Iss Dil Ka
Ek Chhota Sa Phool Mere Bheetar Khila
Aaj Toh Pyar Ka Lo Ji Tyohaar Hai
Aaha Neelveni
Phoolon Ki Tarah Khili
Raja Aayenge Jab
Khud Ko Bhent Karna
Jahan Pe Milte Hain Rishi Muni
Wahan Pe Pyar Khila
Madhur Milan Yeh Sapnon Ka
Shubh Hi Shubh Hoga
Swapnika Chaitrika
O Priye Netrika
Hai Kahan Hai Kahan
Raja Iss Dil Ka
Baadalon Tum Chalo Tum Chalo
Baadalon Tum Chalo
Swami Se Jab Milo
Baarishon Veena Bann
Prem Geet Gao Na
Priye Ki Kok Mein
Nanhi Jaan Hai Pali
Jaldi Aane Kaho
Raah Dikhlao Na
Jagmagati Hui
Aaj Ki Raat Hai
Chandni Ki Tarah
Apna Yeh Prem Hai
Ratsa Aasmaan Mein Taaron Ne Banaya
Dharti Pe Dilon Ka Mausam Jagmagaya
Phoolon Kaliyon Ki Charnon Mein
Mann Yeh Bheeg Jaaye Hai
O Ri Kamal Naina Prem Yahi Hai Samjha
Sookhe Patton Sa Hai
Aashram Vaasi Dil
Unki Aane Ki Aas Pe
Zinda Hain
Hey Priye Hey Priye
Preet Kyun Sheet Hai
Mere Mann Ki Tarah
Dharti Bhi Dang Hai
Jitni Bhi Barf Ho
Jitne Bhi Dard Ho
Iss Nanhi Si Jaan
Ki Suraksha Karo
Ummeedon Ke Sabhi Patte Murjha Gaye
Jab Yeh Phoolenge Main Khilungi Kya
Sardi Se Kya Lena Jab Aayi Godbharai
Chinta Na Karo Priye
Khud Mein Tum Basant Ho
Maah Maah Hai Beet Gaye
Lehar Lehar Ki Tarah
Sada Rahe Jo Khilta Hua
Ratna Janm Tum Do
Raah Woh Dekh Ke
Aankhein Thak Si Gayi
Dil Ko Ummeed Hai
Aayenge Woh Abhi
Mallika Mallika Music Video
Written by:
Prashant Ingole
Found Any Mistake in Lyrics?, Please Report In Contact Section with Correct Lyrics!
You may also like…